A group of family, friends and colleagues have launched an initiative to keep the memory and work of Carl Poll alive. It is called Carl's Small Sparks, an idea Carl brought from Seattle to the UK, and one that was close to his heart.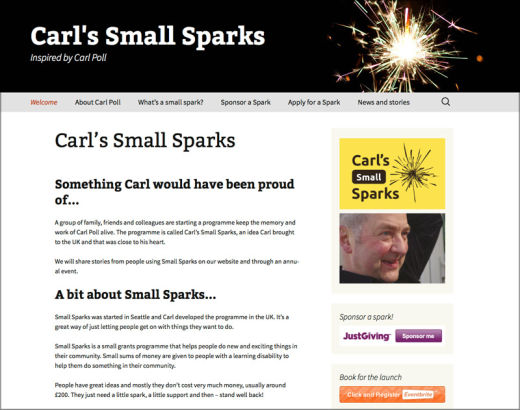 Small Sparks is a small grants programme that helps people do new and exciting things in their community. People have great ideas and mostly they don't cost very much money, usually around £200. They just need a little spark, a little support and then – stand well back!
By involving other local people, Small Sparkers can make real connections in their community and create projects that benefit everyone. It's a great way of just letting people get on with things they want to do.
---
The publisher is the Centre for Welfare Reform.
© Carl's Small Sparks 2014.
All Rights Reserved. No part of this paper may be reproduced in any form without permission from the publisher except for the quotation of brief passages in reviews.