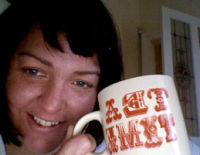 Karen has a background in supporting people with disabilities, working for provider services and in development roles across a variety of sectors. Her work has also involved innovative work around walking alongside people who have mental health conditions as they direct their own support.
Karen's passion for the last century has been about supporting the development of peer support in the heart of communities. She has done this as part of The People Focused Group; where her heart and soul will always belong.
Peer support, Karen believes, is simply the art of people helping people. She works with the wider world to help them understand why professionalising peer support takes it's very essence away.
Karen has a diagnosis of Bi-Polar 1 and Borderline Personality Disorder. She feels lucky that she has had limited contact with services which saddens her. There have always been good people in her life who have supported her and given her hope. This includes the amazing peers at The People Focused Group who support her in her work and life.
Karen lives in a beautiful part of the world near Barnsley with her partner Martin and dog Artie. She loves to be at home, walking her dog in the country with her wellies on, and enjoys the simple things in life like fish and chips and a lovely cup of tea.